Vinegar is one of the best cleaning products, although it doesn't smell good. But if you add orange with it becomes an amazing combination. Check out this Orange Vinegar recipe to find more!

White vinegar is one of the best all-natural cleaning ingredients. It can be used for everything from deodorizing laundry to washing floors. But… let's face it, white vinegar isn't the most pleasant smelling or exciting cleaner. Luckily it's easy to make infused orange vinegar for cleaning to liven up your green cleaning routine.
Scented Vinegar for Cleaning
An easy and inexpensive way to freshen the smell of vinegar is by infusing it with citrus peels. Oranges are great but you can use any citrus fruit from lemon and grapefruit to tangerines and limes.
Orange Vinegar Uses
Sink Disposal Cleaning – Grind the vinegar soaked peels in the garbage disposal to clean and freshen it. Use a boiling water rinse for a clean, deodorized disposal.
Multi-Purpose Cleaner – Mix 1 cup vinegar with 4 cups water and use to clean counter tops, floors or windows. (Make my spray bottle.) I also use this mixture to fill my "quick mop" for weekly floor cleaning. I use it on all type of hard floors.
Bathroom Cleaner – Use full strength to help remove hard water stains when cleaning the bathroom. Dilute to scrub sinks and showers.
Fabric Softener – Add to the rinse cycle to natural soften and freshen laundry.
Making Orange Vinegar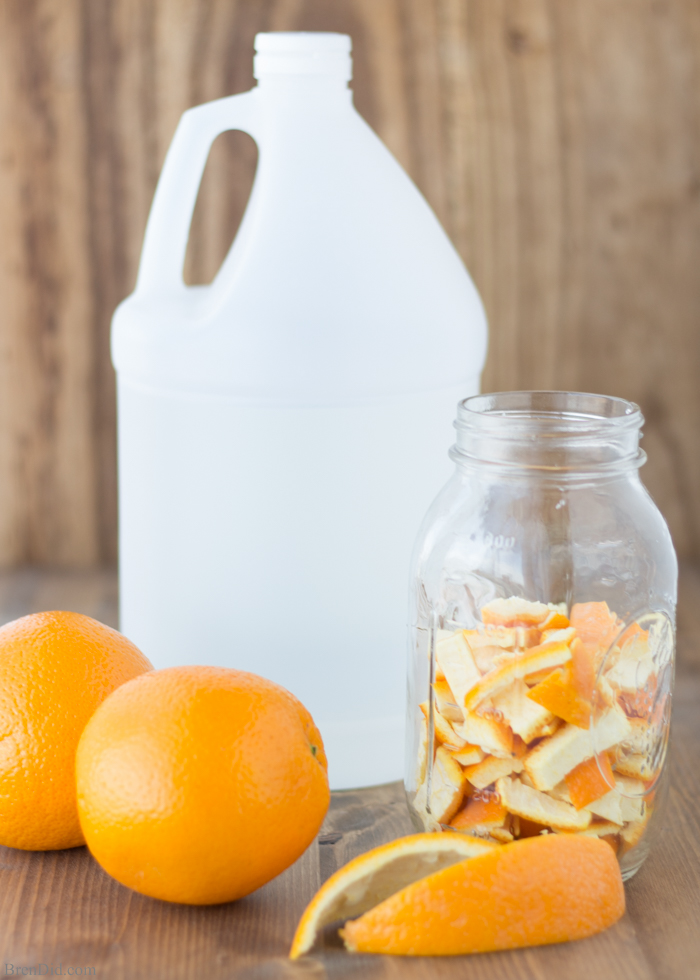 To make orange vinegar for cleaning you'll need a glass container, orange peels and white vinegar.