Keep your craft supplies organized and at one place where you can find them in time with these CRAFT storage ideas for small spaces!

If you are a DIY'er, chances are pretty good you're a crafter too. It doesn't take many craft supplies before your home can feel cluttered and supplies are lost. And what is worst is if you have a small home. Obviously, not all of us can have an entire room devoted to craft supplies.
With the storage ideas in the post you can keep your craft clutter in one place!
1.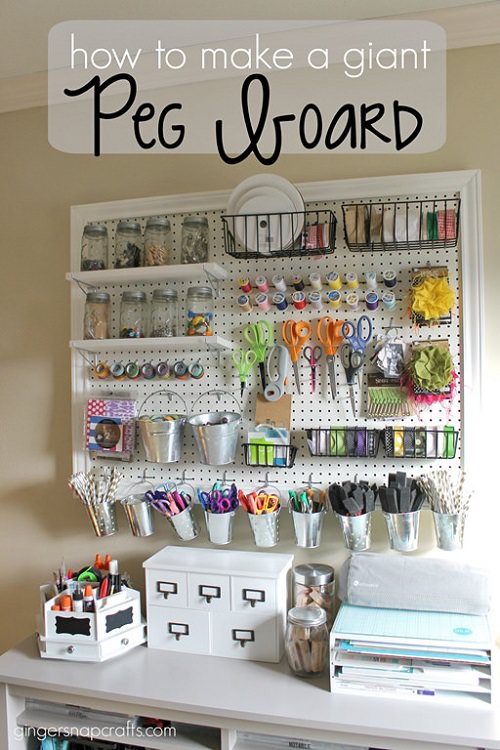 If you have an unused corner of the laundry space or garage, learn to make this large pegboard storage system by 'Ginger Snap Crafts.' This is the full tutorial and includes some more great craft storage ideas as well, so check out her post!
2.
Lauren at 'The Thinking Closet' files her fabric! Ok, there was a time when my kids were little I had a LOT of fabric laying around… usually in plastic bags. This is so smart! And it also keeps it clean, neat and can be arranged by color.
3.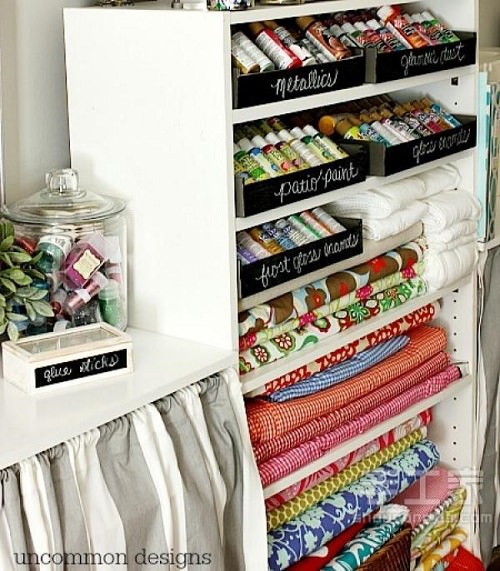 Trish at 'Uncommon Designs' gives us a craft room tour, and you can get so many good ideas! This photo of her storage system includes a simple bookcase and desk that take up little space. The desk even has a fabric skirt to hide anything large you may need to tuck under a sewing machine, perhaps?