With these 6 homemade bathroom cleaner recipes, you can clean your bathroom effectively from top to bottom without losing the weight of your pocket.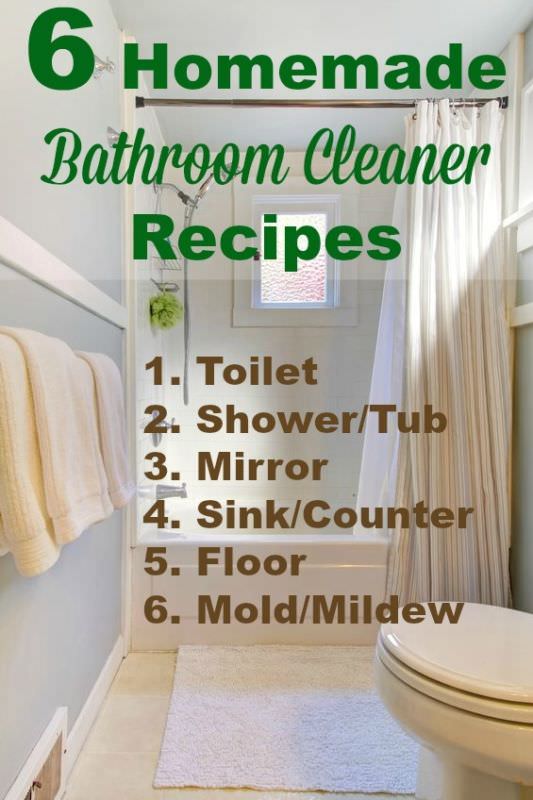 Making your own homemade cleaning products gives you a choice of what ingredients and chemicals you can use in your home. In addition, it can save you money. They can work just as well (or sometimes even better) than something you'd buy in the store. Below you can see six homemade bathroom cleaner recipes that you can use to clean your bathroom from top to bottom.
Of course, these aren't the only homemade bathroom cleaner recipes that will work for cleaning your bathroom, but these are simple and proven!
Homemade Bathroom Cleaner Recipes
1. Homemade Toilet Bowl Cleaner
Borax. That's it. Just add 1/4 cup of borax to your toilet bowl, sprinkling it onto the sides and into the bowl, use your toilet bowl brush to scrub it around a bit, and then lit it sit for at least half an hour. Then, give another quick scrub with your toilet brush, flush and done.
2. Homemade Shower & Tub Cleaner
It's best to clean your shower and tub regularly to keep soap scum and hard water builds up at bay. One of the best cleaners is to mix equal parts dish soap (some people swear by Blue Dawn although I honestly think any kind will work) and vinegar.
Put this mixture in a dish sponge with a handle with built-in soap dispenser ( like this one) and hang it from a hook in your bathroom. Use it to scrub and then rinse thoroughly and you'll always have a nice clean tub and shower. (Hint: you can do it at the end of your own shower or bath and it is so much easier to rinse it off the sides of the shower or tub that way!)